Today I am off to fuji, after posting my spoils from Tokyo (2 boxes which cost a lot of money) I got onto the train from Ikebukuro heading to Shinjuku got off there and jumped on a train heading for Kufō. While waiting inline I got asked a question by an American about what sort of ticket you needed. I advised he would need to buy one so off he went, because of that the woman inline behind me starting to chat with me.
She spoke really good english and we talked for hours her name was Michiko, she is married to a gentleman who is a burocrate but he is actually a nuclear engineer so he is working with people fixing the Fukushima plant. It was really nice finding another person to talk to and she gave me her number incase I needed someone to contact.
After getting off at Otsuki I rode on a one way train to Fuji, it was more of a tram than a train as it was really slow. I didn't take picture cause it was too beautiful to miss but we drove through the mountains and the forest i have to go back the same way so photos will be taken then.
Arriving in fuji (Kawaguchiwa) I waiting for a taxi and headed straight to my inn.
Kawaguchiwa station
The inn is beautiful on the outside completely Japanese style it has beautiful koi ponds and such. The room I have isn't much which was a little disappointing. I thought it had it's own toilet and shower but it doesn't :p this means I have to use the onsen regardless lol. It does have a table and air conditioning so that's good.
( Onsen i stayed at )
After I had my sook regarding the room (false advetisement!) I asked them where the wifi was as it was advertised as having free wifi on public areas at this inn. But they advised they dont have wifi and instead gave me the laptop they had on the counter to use in the dining area. Sigh this doesn't happened often as the site I used to book the accomadation is very reliable so when I get to an appropriate place I'll probably advise them of some of the misconceptions regarding this place.
In the meanwhile Im trying to look on the brighter side as I found melon soda at the local convince store so I brought some and there is a small fridge in the room so I'm using it for my breakfast. (they ONLY serve lunch here =_=)
The area itself is beautiful but I can't see fuji today :( too cloudy lol.
Tomorrow I have a few things planned I'd like to go on a boat tour aroun the lake :) I'd also like to take a ropeway (cable car) up to a mountain!
After I do that I plan to walk across the river to the other side and look at two museums. Possible a monkey theatre show although I'm a bit funny about using animals in shows. I'll also stop at a few shrines :) hopefully tomorrow will be good! One redeeming point this place has is a dedicated anime channel lol.
The front desk gave me a very useful paper on things to do in the area so it'll be nice to explore it's also got a VERY handy public transport map explaining how to get back to shin Osaka. (kinda)(in hindsight this is a lie)
I also finally learnt what the little reverse swat stickers on Japanese maps mean. There the sign for temples it really confused me before.
As i went out to dinner I was able to get a clear shot of Fuji!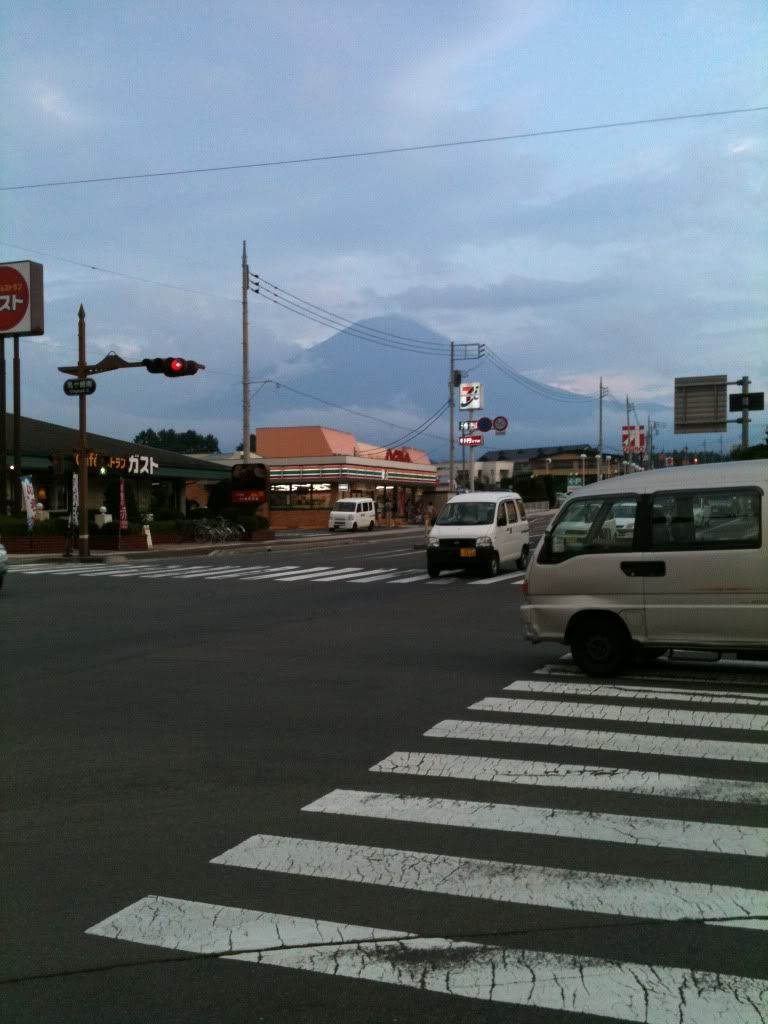 I'm eating Chinese tonight they didn't have anything Japanese around LOL the food looks good and plenty of people are here eating it so Thad a good sign. But I'm not get pork!
( Dinner & Dessert )
When I get back to the hotel I am going to have a bath :s it's a little nerve wrecking as other naked women haven't seen my naked butt before and I know I'm going to end up starring at someone's tits (cause I stare generally hahaha) I hope that there is someone nice there to show me the ropes.
In the baths I was nervous to get undressed as at the time no one else was naked and I was worried I wasnt meant to be lol. Then two woman got naked and then I follows their lead! At first twas a bit strange but after a while it was natural I was nude they were nude nothing weird about it lol. My tits were the biggest!!! ^_^ I chatted with a Japanese woman and a Koreon woman who was also doing an onsen for the first time :)
After I went back to my room and relaxed. Watched anime an chilled, natsumes book of friends was on which has Akita ishida in it <3 his charater is very Kai like and his wears glasses so I was happy! Tiger is bunny is on at 10pm so I'm going to try and wait until then to watch :)